Globally and nationally, the education system is pushing for innovation, and individual competence while blurring the over-emphasis on academic excellence. This new aspiration is pushing more for human capital development, fronting young people who can use their experiences and knowledge to ideate for a better world. We understand this and we are glad that we are on a journey attempting to achieve this aspiration. That's why we love to share with you a story.
One filled with confusion, frustration, anxiety, and finally joy and smiles. It's a story that started in December and witnessed its outcomes in February. You can see how it has been a long time coming. At least some of you must already know how children hate to work on the same thing for a long time. They most like to do something today and do another tomorrow. This is because children love to explore and do as much as they can. We knew this exactly but also had another thought about it.
That's why we spiced up a journey of research and also hands-on while throwing in sprinkles of inspiration. The story we are sharing with you today is one about design for change, a program the children embarked on as they explored their creativity to identify issues in their community and try to find solutions to address them. At the start of the holiday, the children we put into groups of 2s, 3s, and 4s. We made sure that we separated the regulars and those that were close to each other into groups with children they were least familiar with. We hoped to give a new beginning for them all while fostering teamwork, collaboration, patience, and research. We then introduced the third pillar of our creative arts mentorship toolkit "Change making" which seeks to equip children from as early as 8 years with basic design thinking skills to ideate and come up with solutions to the key challenges the world is facing.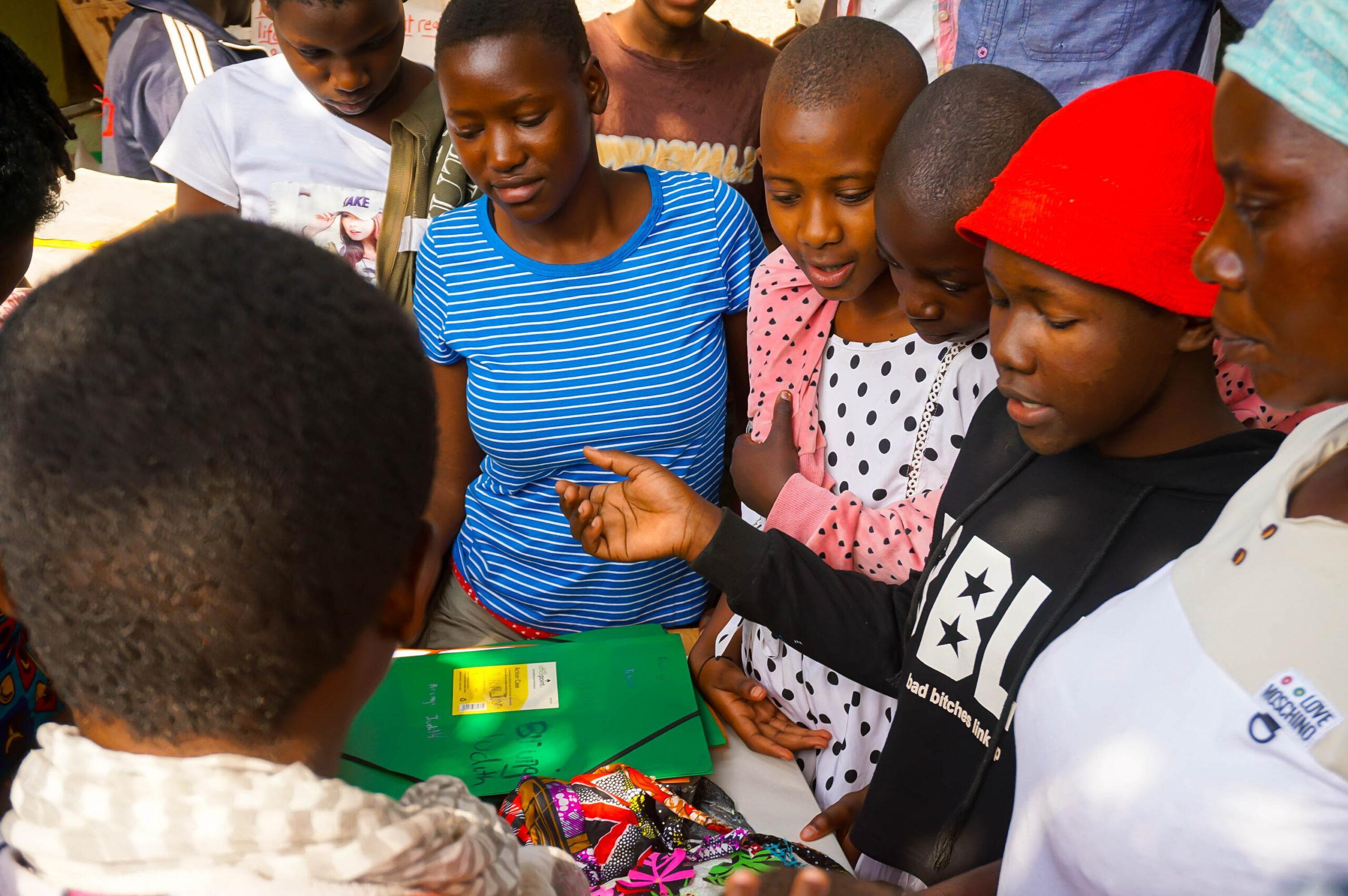 During the holiday, we asked them to start small, thinking of issues they face at home, school, at the center, or in their communities. Each group wrote between 15-30 issues and they were asked to identify the 5 most pressing ones. Here they were narrowing their scope while connecting the dots to show the issues they selected were interesting. They were each given access to a shared laptop that was donated by Lacey Vegas in 2020. They were introduced to the different forms of research, e.g desktop research, and interview, among others.
We realized that several groups identified waste management, sanitation, and environmental degradation as some of the common issues yet others identified drug abuse and unemployment. This stage was confusing and frustrating for many because they never wanted to go through the problems but rather come up with solutions to the issues immediately without having to first understand them to a certain extent. But we knew that it was the right step and encouraged them to embrace the process. We witnessed some of their smiles fading away like then blue in old denim but they gave it a try.
Sharing the facilitation power with the children during the design for change sessions, invited them to be more creative and confident. Knowing that they had the power to initiate projects of their interests and those closer to their hearts, gave them a silent push to work longer hours.
Our role was to facilitate and offer guidance once asked but also encourage the young ones to generate all the crazy ideas they would think of. The best way to have a good idea is to have lots of ideas.
This process was guided by our team's experience in design thinking led by Kamanyire Nyakoojo as well as the "solution cards' that were given to our founder Ssekitto Kalule Emmanuel during the UNLEASH global innovation lab in India as well as inspiration from Design For Change ICAN mindset.
Appreciation to Faith Aweko, a "wasteprenuer" who shared her experience and taught children about recycling plastic as well as Odur Rolnald for delivering such an insightful talk to the children and taking them through his journey of using copper plates. these two made a huge contribution to the success of this program.
Teams and their solutions summaries
Team Name: Team Genesis
Project title: Skilling for a better community
Founding members: Zawede, Namakula, Mutesi, Naluzze
The problem they tackle: Insecurity caused as a result of youths being idle and disorderly
Solution idea: They hope to offer mobile hands-on skills clinics to engage and teach youths from various highly insecure communities how to make products such as bags, shoes, paper bags, and baking to enable them to start businesses.
Team Name: The recyclers
Project title: Plastic and Jewelry management
Founding members: Cika, Nantege, Tushabe
The problem they tackle: Land Pollution
Solution idea: Make jewelry pieces from discarded plastics.
Team Name: Vision Hunters (V.H)
Project title: Let's raise to address poor sanitation
Founding members: Lukyamuzi, Babirye, Mawejje, Namyanja
The problem they tackle: Poor sanitation due to unhealthy waste management
Solution idea: An awareness campaign that explores educational posters to sensitize people about how they can maintain better sanitation. Their prototype was an educational board they created on which they highlighted small steps and measures people can take to achieve better sanitation.
Team Name: From grass to grace
Project title: Empowering youths
Founding members: Agaba, Niwagaba, SSsendiwala, Waiswa
The problem they tackle: Drug abuse
Solution idea: Educating and sensitizing youths about the dangers of drug abuse through creative campaigns
Team Name: Team Royalty,
Project title: Minds of Creativity
Founding members: Mulukusa, Najjuma, Ntale and Ninsiima
The problem they tackle: Unemployment leading to poverty
Solution idea: A hub that skills youths with various hands-on skills and uses the acquired skills to start small enterprises. The prototype they presented were dolls made from recycled fabrics they outsourced from their environment.
Team Name: Motivators
Project title: Saving the environment through recycling
Founding members: Drate, Ndagire, Yiga
The problem they tackle: Increased disposal of plastic waste into the environment causing sewage channel blockage, and soil exhaustion affecting life on land but also life in the water.
Solution idea: They presented flower vases and pencil holders all made by repurposing and recycling plastic bottles and jerrycans.
Team Name: Victorious
Project title: Harvest as you sow for nature
Founding members: Wujja
The problem they tackle: Deforestation
Solution idea: Her prototype was plastic flowers with lids that contain seeds that once discarded, can germinate into trees or fruits.
Team Name: Dustbin maker
Project title: Dustbin makers
Founding members: Mwebesa Pauline
The problem they tackle: Wastage management and sorting
Solution idea: Her idea is about creating affordable dustbins from found objects to allow families to sort and store their waste at home and in the office. Because of the high cost of the dustbin, families of over 10 people share 1 dustbin where they end up mixing up different types of waste.
In case you have an interest to learn more/follow the journey of any of these solutions, do let us know HERE