Many factors affect how students perform in class. Whether they are direct, such as attendance and study skills, or indirect, such as house environment or access to resources, these factors are the driving force behind students' ultimate success. Despite advances in access to education, many students around the world still struggle to succeed in school. The area this article will focus on is Uganda, where school fees can often be prohibitively high for students. UNICEF said about one in 10 children in Uganda did not report back to school in January, while the National Planning Authority (NPA), a government agency, estimated last year that up to 30% of children could drop out due to COVID-19 fallout. Factors include rising poverty, children taking jobs, early marriages, and teenage pregnancies, which have soared during classroom closures. Increased fees have been a further deterrent for low-income families to send their children back to school, according to the Initiative for Social and Economic Rights (ISER), a civil society organization and co-plaintiff in the legal action. But through Faces Up, the children are reversing this challenge by exploring their creativity and art as a stepping stone.
Success in school is partly up to the students themselves. It is their responsibility to show up to class and participate fully, whether that means raising their hands to answer questions or focusing on the task at hand and doing their best on their school work. All of this takes self-discipline, and this is where Faces Up Uganda comes in. The way Faces Up works is that it has students create works artworks during the free art sessions that take place at their community Center based in Masanafu, Bukulugi zone. Artworks the children create are then sold on an online shop they developed where 70% of the price paid goes towards raising funds to pay their school fees while 30% goes into administrative costs. Through this process, students learn valuable self-discipline as well as a way to support themselves financially. They also get the opportunity to develop life skills such as how to work with peers or revise their work; skills that will carry them well into university, work, or wherever life takes them. Through this work, students are able to express themselves creatively alongside strong mentorship from older community members involved with Faces Up. They are able to grow as people while simultaneously making works of art they can be proud of.
The financial side of Faces Up's method is also impressive. By selling these works of art, students are able to raise their own school fees, therefore putting them on a more equal educational footing with their more wealthy peers. Moreover, the funds these students raise are all their own, which instills in them a sense of pride in their work that can carry over to their educational experiences. Students learn how to support themselves financially, and at the same time, have the assurance of staying in school all throughout the term without worrying about being chased back for school fees. In return, this has a direct implication on the student's motivation in class, level of hard work, and attention while revising and ultimately, leads to better performance. For example, out of the 37 students that supported the last academic, 5 performed on top of their classes while 7 were among the best 5 in their respective classes, and the rest performed equally well as compared to the previous years of their education, where most of them got distinctions in art and design. The majority of these students have been part of Faces Up Uganda's programs for about 3 years now which has given them the opportunity to observe this progress. This efficient and effective system is primed to raise generations of disciplined, well-rounded, creative young people. In reference to the story, Steven Mulukusa is spotlighted as one of the young people, whose performance has improved as well as his art skills under Faces Up's watch. At his finals in Primary Leaving Exams (PLE), he scored second grade. The pictures below give you an insight into his progress.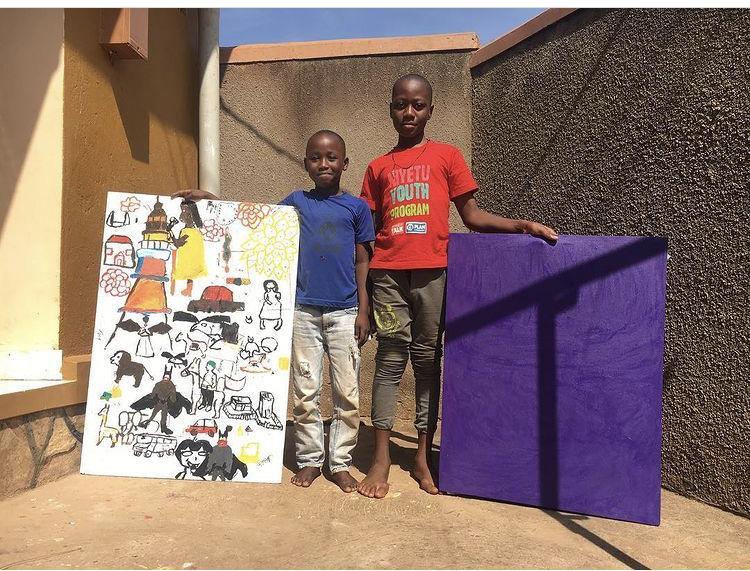 In the past few years, Faces Up Uganda has become a beacon of youth mentorship and the development of good values. Students are committed to their work and happy to be learning these skills alongside their peers. Faces Up Uganda is a remarkable example of the power of a community, as everything the young students do is facilitated by older community members. Through Faces Up, these students are learning not only to be good workers but good people. They have a bright future ahead of them.
To explore how you can support the children to keep in school, tap HERE
This story was compiled and written by Ssekitto Kalule and Raymond Madeline