There are many ways to support nonprofit organisations. Depending on the nonprofits, you can support through volunteering, donations, fundraising activities and non profit online stores.
Non profit online stores differ from other ways of supporting nonprofits, it offers an opportunity to make a meaningful impact while purchasing items online. It connects philanthropy and shopping online.
What's a Non profit Online Store?
A non profit online store is an ecommerce store where nonprofit sell merchandise and generates revenues to fund projects or operations.
With online stores for nonprofits, you aren't only supporting a cause, you'll get value in exchange. It means every purchase you make extends beyond satisfying your wants. You affects social justice, environmental conservation, education, healthcare or any causes you're passionate about.
Merchandise Nonprofit Store Sells
Nonprofit stores sell diverse merchandise, clothing, e-books, mugs, home appliances, tools and décor, office decor, art prints, toys, etc. What a nonprofit store sells depends on them.
Looking for non profit online stores to shop from? Let's dive in.
9 Nonprofit Stores to Shop from Online
Faces Up store is the non profit online store of Faces Up Uganda, a nonprofit organisation in Uganda, East Africa.
Faces Up exploits art for rehabilitation and empowerment of young children from slums, underserved communities, prisons and refugees settlement in Uganda.
They empower the children in Uganda with art opportunities so they could break cycles of negative outcomes associated with slums and underserved communities, which include drug abuse, hopelessness, poverty and violence, and they use art to heal and stabilise refugees with traumatic experience.
Faces Up Projects
Some Faces Up projects for young people in Uganda includes;
Mentor me: Faces up establishes peer networks in schools for these children to access adults on whose shoulder they can stand for support and guidance.

Faces up have reached 4000+ students through mentor me project.

Art workshop: They provide free art workshops to teachers and recruited tutors who train children so they'll develop SEL skills (confidence, creativity and passion), and art skills.
Art for psychological support: They provide free art workshops for young people in refugee settlement and prisons to paint their way to peace and freedom.
Faces Up Store: They raise funds to sponsor their education by selling the children's arts as prints and originals on the store.
What Faces Up Store Sells?
Bags

Tote bags, toiletries, purse and laptop bags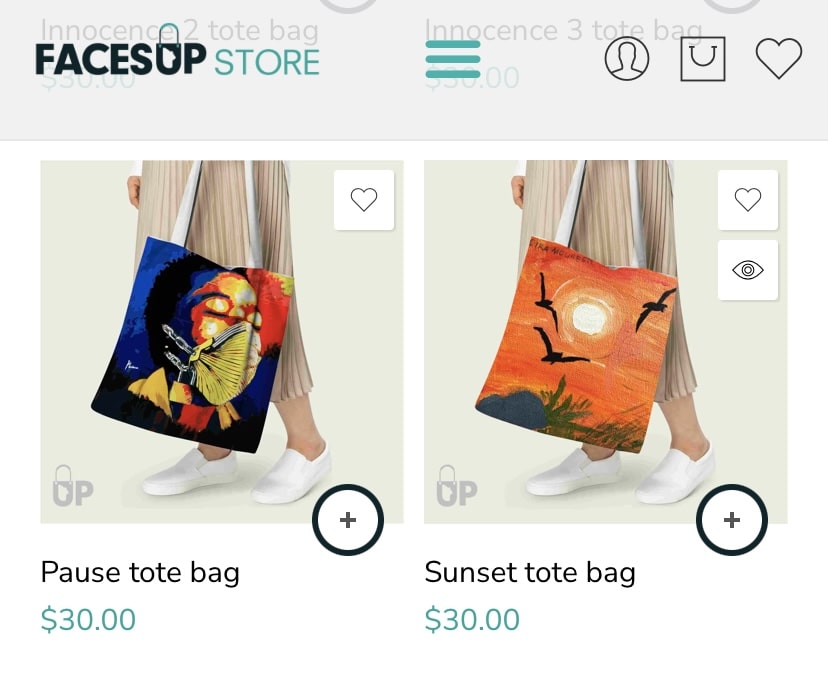 Artworks

Comic books, art prints and purse.
St. Jude Online Gift shop is the non profit online store of St. Jude Children's Research Hospital, a nonprofit in the United States.
Some of St. Jude's Children's Research Hospital projects are;
St. Jude Global: They share knowledge, technology and organisation skills with medical institutions in low and middle-income countries to improve children with cancer and other life-threatening diseases' survival rate.
Pediatric Cancer Genome: They are discovering genetic origins of childhood cancer and seeking new cures.
Influenza Centre for Excellence & WHO collaborating centre: They conduct disease surveillance to increase understanding of influenza outbreaks and disease, to improve treatments and vaccine.
What St. Jude Online Gift shop Sells?
Ladies, kids and men's clothing
Accessories

Scarfs, cosmetic bags, bracelet, purse strap, crossbody, headband, etc.
Home decor

Frames, art gnome, tumbler, journal, water bottle, etc.
Charity Water Store, online store of Charity Water nonprofit.
Charity Water provides safe and clean water to people around the world. Their goal is to end global water crisis because access to clean water means education, income and health.
Charity Water Project
They implement community owned water projects. So far, Charity Water has implemented 121,314 water projects.
With their local partners' help, they facilitated comprehensive water, sanitation, hygiene (WASH) to protect people's long-term health.
What Charity Water Store Sells?
The nonprofit thrift shop of Housing Works.
Housing Works focus on people living with HIV/AIDS.
They are making sure people living with HIV/AIDS have access to good housing, healthcare, HIV prevention, treatment and other lifesaving services.
Housing Works Projects
Some Housing Works projects for people living with HIV/AIDS includes;
Housing: They provide secure housing to homeless people.
Healthcare: Housing Works provide many health services, HIV and STI testing, COVID-19 testing and family medical clinic, to mention a few.
Ready for work: They empower them with life skills and careers.
What Housing Works eShop Sells?
Children, men and women's apparel.
Home decor

Pillow case, candle set, drawstring bag and dust bag.
The online non profit store of National Geographic.
National Geographic protects the planet.
They fund astounding individuals interested in understanding the world and science discovery globally, document their discoveries and use it to protect nature, wildlife and historical places.
National Geographic are focusing on five areas on the planet; ocean, land, wildlife, histories & cultures, and human ingenuity.
National Geographic Projects
Some National Geographic documentations of the planet are;
Out of Eden: A project where an explorer led pathways of the first human who migrated out of the Stone Age and made earth ours.
Pristine Seas: In the project, some explorers led by Enric Sala dived for thousands of hours, seeking some of the least explored and understood part of the ocean.
Photo ark: The power of photography was used to save species at risk by photographing every species.
What National Geographic nonprofit store Sells?
Toys and collectibles

Plush toys, dolls, cars, trains & RC toys, games, puzzles, Lego and play sets.
Accessories

Wristwatch, kids' shoes, flip-flops, earrings, bangles, headbands, kids' lunchbox, wallets, backpacks and satchel bag
Kitchen tool and accessories

Baking dish, dinner & salad plate set, mugs, tumblers, water bottle, home decor and books.
The non profit online store of Global Goods Partners (GGP).
Global Goods Partners?
Global Goods Partners support artisan women around the world by providing international market access and sustainable jobs.
Global Good Projects for Women
Women artisans creating for GGP earn reliable and fair living wages from their products revenue and gain experience that adds value to her life.
GGP provides small grants to the artisan women to purchase new equipment, upgrade their facilities, or improve their lives and families.

GGP has partnered with more than 60 artisans in over 20 countries.
What GGP Fair Trade Gift Shop Sells?
Flowers, towels and blankets.
Ceramics, desk and stationeries.
Jewelry

Bracelet, necklaces and earring
Gifts

Gift sets & card, Mother's Day gift, etc
The non profit online store of Best friends Animal Society.
Best Friends Animal Society save the lives of homeless pet in America. They are the heart of a collaborative no-kill movement of pet.
Best friends Project for Pets
Best friends connect homeless dogs and cats with loving new families, increasing the US National save rate from 70.6% in 2016 to 81.4% in 2022
They run the largest sanctuary in US, a healing home for up to 1600 dogs, cats, birds, bunnies, horses, pigs and other animals.
What Best Friends Store Sells?
Apparel

T-shirts, tanks, sweatshirt, pants and kids' apparel.
Accessories

Bags, hats, jewelries, pins and socks.
Home and office Supplies

Keychains, stickers, magnet & decal, paper goods, pottery mug, tumblers, etc.
Pet gears

All pet gears, pet bed, mat, apparel, leashes, collars and toys.
Survival Shop belongs to Survival International nonprofit based in London.
Survival is an indigenous rights organisation.
From the Amazon to the Kalahari, from the jungles of India to the Congo rainforest, Survival protects tribal people's lives and land from racism, land theft, forced development and genocidal violence.
Survival International Project for tribal people
Survival stops loggers, miners and oil companies from destroying tribal lands, lives and livelihood.
They lobby government to recognise indigenous right.
They document and expose atrocities committed against tribal people and take action to stop them.
What Survival Shop Sells?
The online nonprofit store of Craft + Boogie collective.
Craft + Boogie Collective delivers art and craft kits to underserved children, kids in foster care, patients in hospital and students in under-resourced elementary schools in United States to help them feel seen, loved and connected with trusted adults through creativity.
Crafts + Boogie Projects
Crafts + Boogie send craft kits to foster families through mail.
They work with local organisations to distribute craft kits to children in foster care, students in under-resourced schools and families needing emergency food relief.
What Craft and Boogie Store Sells?
Personalised craft boxes for seasonal trends

Mother's day and Father's day craft box, birthday, wedding, superhero and lost tooth craft supplies