While Dawit was still young, he exhibited attention and interest in art, and every time he travelled with his father, he observed everything artistically. Whenever they returned home, he depicted some of them in innocent doodles. Being born as a deaf child in his entire family, Natan Dawit has inspired all his siblings and peers to love art. He believes that it is the perfect way for him to say so much to the world. He hopes to become a great artist.
When he was 12 years old, his family fleed from Eriteria and settled in Uganda, where his father gave up his carpentry job for the safety of his family. His father (Dawit senior) has and continues to do everything for his son to flourish. Two years ago, he bought a laptop for him after excelling well in class, which he now uses the computer to do research to further his passion for art. His sister says that she loves to see him paint because it brings the best out of him. His passion and dedication, motivate the family to learn from him. She says that the entire family believes that he will one day be a great international artist.
At the beginning of this year, we learned about this young man from his class teacher at the Uganda School for the Deaf and we were so eager to meet him in person. One of our team members Nyakoojo Kamanire took on the endeavour and contacted the father a few days after, he visited their home. He met the boy and the entire story changed. Nyakoojo invited his family to our community centre in Masanafu, Bukulugi zone. During the conversation in accompaniment of his little brother, Dawit signed a question and the brother interpreted he asked, "What were our plans in regards to extending mentorship support to children with special needs?"
During the conversation, he challenged us to reach out to the Uganda School for the Deaf. This brought us to partner with his school and offer free art training and mentorship on a bi-weekly basis. Today as we speak, Dawit is one of 4 children with special needs that we are currently working with. We are finalizing what is yet to be one of our most exciting projects so far. We can't wait to share with you all!
The passion of a young man like him who is beating all odds to follow his dream is very inspiring. At the moment, we plan to create some postcards and accessories with his print designs and make them available on the online store.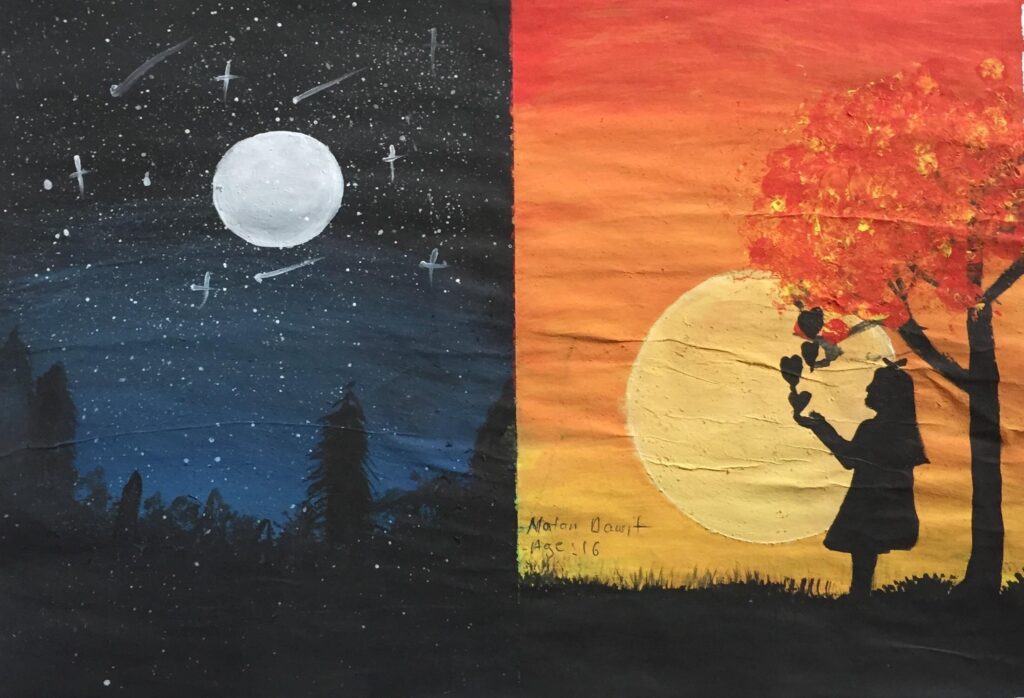 Please share this story with someone you hope needs to see it.